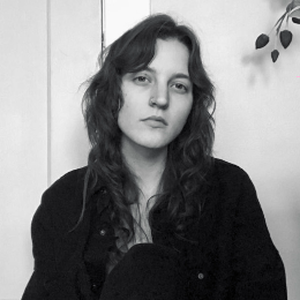 Elise Mills
Experimental Sound Artist & Music Journalist

Mapping connections between soundscape, memory culture, and the machine.


about me:
I am a multi/interdisciplinary person at heart with a love for the experimental. I compose in both written and sonic formats. My academic background draws from media & cultural studies, politics of public space (spatial studies), memory culture, and religious studies frameworks, all of which are relevant to the social impact and a necessary ecological understanding of art, music, and community in an ever-changing climate.

My practice is informed by musique concrète, drone, contemporary classical music, and other forms and tools of experimental electronic composition.
You can follow my badorchid sound art project on Bandcamp.

musical updates
October 3, 2022: Elise's Radio Debut on The Lost Hour with Tom Marsi
Elise curates an experimental ethereal mix for Tom Marsi's show on SF-based internet radio station BFF.fm. Track listing includes favorites from Klara Lewis, Sunfear, Briana Marela, VCAM, Jerod S. Rivera, and Bergsonist.
from Tom Marsi: 

"This week on TLH, we celebrate one month at BFF.fm by welcoming our first experimental guest Elise Mills! Elise brings what can affectionately be described as ambient ocean-floor goth. Lovely vocals and lovelier chatter, Tom and Elise delve into a fun ethereal 60 minutes. Enjoy!
The Lost Hour is a weekly web of experimental ethereal music fun~ sometimes featuring guests and their funky thoughts and tunes."

September 17-18, 2022: Dream Radio II Submission at Other Places Art Fair
"dreamcycle"  featured on Cone Shape Top's Dream Radio, a site-specific sound art installation taking place at Other Places Art Fair 5 in San Pedro, CA
from @coneshapetop:
"This weekend Cone Shape Top presents the second installment of Dream Radio at Other Places Art Fair. A site specific surreal listening station taking place inside a black cube emitting 6 hours of sonic exercises, ambient soundscapes, drones, original productions, club tracks, experimental music, spoken word and field recordings from an international line up of art practitioners, musicians, producers and sound artists."
July 17, 2022: "crunchy palette in 13 movements" Included on Signal to Noise Broadcast
"crunchy palette in 13 movements"  featured on Signal to Noise, a UK internet radio show hosted by Nick Roseblade and broadcasted through totallyradio
from Nick Roseblade:
"Signal to Noise is a show dedicated to Noise, Drone, Experimentalism, Neo-Classical, Electronica, the plain Weird and the Avant-Garde. Each episode will showcase music made on the fringes not just of mainstream music but also of society. This is fearless music, made by people following their own paths. Hopefully you'll get lost down as many rabbit holes as we did. This is music to listen to while staring into the void."